Posted by Lori on Dec 2nd, 2012 | 105 comments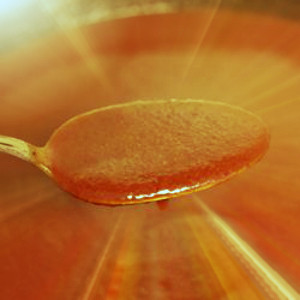 My mama was raised in New Mexico where I was born. The food memories I have are so colorful growing up in Clovis, NM and West Texas (Amarillo). The one bright memory is when mama would make enchiladas. We had them on special occasions such as Christmas and when we expected guests.  She made them in the way that she grew up with, the way that everyone from the Texas Panhandle had eaten if they had ever dined Mexican cuisine in Clovis. The enchiladas of my childhood were covered with a thick layer of melted cheddar and each enchilada roll enveloped by the the most memorable enchilada "sauce". When mama got ready to make this special dish she got out the golden can of powder called El Monterrey Enchilada Sauce.  This memorable can was the one that mama let me pry open with the spoon when I helped her cook. My first sniff of Cumin came from that very can.   That was probably the beginning of my spicy culinary adventure.
This sauce originated in the El Monterrey Restaurant that made the spicy enchilada gravy famous. This was a staple in every cook's kitchen around Clovis and the Texas Panhandle surrounding areas.
I found this photo on the internet of the now abandoned family restaurant, El Monterrey, which has stood in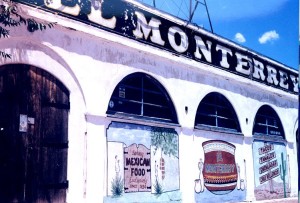 Clovis, NM since 1934. I thought the only Mexican food in the world came from the El Monterrey and my family kitchens for all of my childhood. Mexican food WAS the El Monterrey.  Please do not confuse the disgusting El Monterey frozen Mexican food for the quality of food that originated in this wonderful place.  Not the same at all.
 So what is all the hype? El Monterrey is a sauce that turns into a rich brown gravy when mixed with water, creating Mexican magic when you dip tortillas into it before rolling into enchiladas. El Monterrey is only available in Clovis now. El Monterrey is unforgettable.
 I remember when my Aunt Cathy moved to Michigan my mother and grandmother would send her cans of El Monterrey during the holidays. It is something that reminds us of our heritage and youth, and something we cannot be without. Even our own family living in Amarillo would stock up when we went to visit my grandparents.  I remember you could buy this in Bovina and Texico too.  If we forgot to get it while in Clovis, we would always make an emergency stop on the way home in one of those two towns.
Sadly as most stories go, the restaurant eventually closed, and the magic El Monterrey sauce disappeared for a while, but was resurrected by one of the sons of the family, and is now available again in vinyl pouches.
You c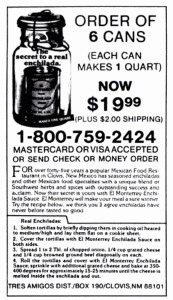 an purchase them online in case and half case quantities.   Pricy but worth it for someone who needs the comfort of this sauce.
During my desperation for El Monterrey, I found an old ad in the Texas Monthly Magazine that has the original recipe for the Enchiladas printed on it.  Click on the Ad to see the original restaurant recipe.
Mama made hers like this only she put refried beans into the ground beef. I didn't like the raw onions so she sauteed them first in the oil that she put the tortillas in to soften them before rolling out. Otherwise, this is mom's recipe.  Mama also sometimes covered them in Velveeta instead of cheddar.  I remember daddy shaving off the cheese into squares and her perfectly covering her pan of enchiladas as he sat at the dinner table reading his newspaper while he waited for the feast.  Memories like these are all I have since both of my parents are gone now.   I hope that those of you that grew up in this area are as fond of El Monterrey as everyone was that grew up during this time.
You don't want to buy a case of the stuff? I have great news!  During the horrifying several-year disappearance of the yellow and blue can from store shelves, someone (mama?) came up with the following recipe for El Monterrey Sauce and after mama passed, I found it in her possessions and massive recipe collection, and although I've not tried it since I still have my pouches, for those of you not able to get this enchilada gravy, it would be worth the try.   I have heard back from several people that the Spice Mix recipe is absolutely divine!  Go ahead and try it today!   Recipe below.
Photo Credits:  El Monterrey Restaurant:  C. Massey,   El Monterrey Sauce Package:  tina in PVB @Flickr
El Monterrey loosely translates to "King of the Hill" in Spanish.
King of the Hill (El Monterrey) Enchilada Sauce Dry Mix
Ingredients
2 1/2 cups flour
1/2 cup cornstarch
1 t. paprika
8 oz. chili powder
1 T. garlic powder
1 1/2 T. salt
1/2 t. cumin
1/2 t. oregano
Instructions
Mix all dry ingredients together and store in airtight container.
To Use Mix:
2/3 C. of dry mix with 1 QT of water and cook together in saucepan on stove at medium heat until well blended and thickened.
Small Amount:
Use 1/3 C. dry mix to 1 PT of water, cook together on stove until well blended and thickened.
Notes
Store in the freezer and use the freshest spices you can find. You may cut this in half if you like and make smaller batches.
http://thespicytexan.com/travel/el-monterrey-enchilada-sauce/
Full Post Content & Recipe ©The Spicy Texan. Pinning, sharing links welcomed! Please do not repost or republish elsewhere i.e blogs, websites, forums without explicit prior permission. All rights reserved.

105 Responses