Posted by Lori on Jan 12th, 2011 | 10 comments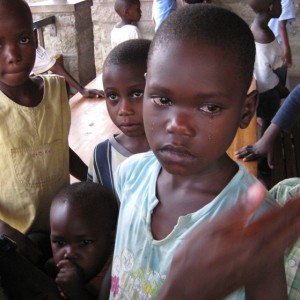 I am very tired but I wanted to write a small note with a few thoughts on today.   We spent the whole afternoon with orphans.
Tragic, beautiful…haunting.  It always is.  It always takes a piece of me and just shatters me.  Still, and will again and again.
I thought of how much their lives were like the wilderness, and that they are still growing and thriving throughout all of their devastation, with just a tiny bit of watering.
It was like it always is, the children attack with affection, at your legs, your hands, your arms and any part they can cling to.   This gesture if for but a moment seems to heal their wounds and create comfort and smiles.  When I embrace them it reminds me that brokenness is a part of  life, and some take on a bit more than others.   I hope that somehow I can take on this challenge and help these children plant a seedbed of their brokenness and grow new life. It is a huge challenge.
A beautiful 6 year old girl saw us getting ready to leave.  We had loved on her so much and she was precious and touched our hands, and inspected my skin for every freckle and imperfection.   She gently played with the littles and mommied all the babies.  She had taken on a big role in their lives.  At this shocking time of our leaving, the realization that our touch would be removed was more than she could take.   Who would be her mommy now we are leaving?
The tears began to roll down her cheeks.  No sound, head down, broken.  I sat with nothing to do or say but join her in sadness and tears.   All orphans know this familiar silent cry.   The cry that has no sound because the sound that was designed for a cry is not always be attended to, it slowly leaves and isn't necessary anymore because there is not always someone to meet the needs.
God comfort her in the night…let her know your love and know she's not alone, orphaned but not alone.
I kissed her forehead and left.
Love is about service to others. Love is something that bonds people to each other and places and things.  Love is our deepest longing.  Let her know love.

10 Responses