Posted by Lori on Jan 22nd, 2011 | 4 comments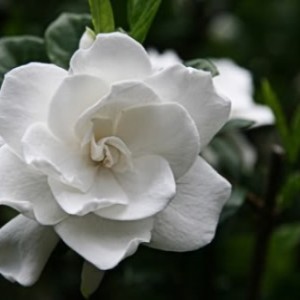 This post is late, I wrote it 4 days ago.   I am on linear time here.  Things happen event after event, not each day a schedule.   My driver operates on American time so this is why he's quite easy to work with and I've selected him to work with those going to Uganda.     But I'm on Ugandan time.  For now know I've landed safely in Northern Uganda but read on how time led up to this…
The breeze ever so slightly sifts through the vertical screens softly moving my olive African print curtains in my bay window. I distinguish two scents swirling around becoming one: mimosa and gardenia. I look and there is large beautiful Gardenia bush right outside my window, with very few flowers but still fragrant. I remember my grandmother introducing me to Gardenias but due to our very dry climate, we never could keep them after we got them. I loved them so. I even recall buying my grandma a gardenia corsage for mother's day. It is really interesting the emotional value of scents. I am comforted here with her memory amongst the sweet perfume of her presence with me. I miss you my dear granny.  I wonder what she would have thought of me being in Africa?
The mimosa reminds me of my very early childhood, climbing the neighbors mimosa tree and picking the blossoms and tickling everyone's faces with them. We always put them in our hair and behind our ears to seem exotic. It is nice to have reflection time here, time to do nothing, no phones, no worries of the daily grind…
I had to change guest houses yet again. Life even for the business owners here is difficult. If they have no patrons, they cannot pay their bills. In a previous post I told you about my dear friend Prossy whose husband had passed from AIDS and she was trying to maintain the guest house she rented. Business had been slow, so I prayed with her for some patronage. That day a whole team of 9 people arriived, and then another couple and a single and myself. She was so very happy that her guest house was almost full and she had business for the whole weekend. More guests came and went and the kitchen was abuzz with dishwashing and the floors were constantly mopped by hand with a rag by Prossy's 10 year old daughter. Life was good, until yesterday. It seems that the water company had a "mistaken meter reading" and decided to bill her for about 730,000 Shillings. This is about $350.00 USD. For the very average lucky Ugandan this is about 4 months salary. Unfortunately the water company gave no bill, no notice, no warning and came and took the meter and turned off the water. I was thankful for the shower I had that morning.
I found Prossy sitting with her head in her hands sobbing. The guesthouse rent was due in a few days, and the week after her many children and her husband's children and other children she cared for would need to start school. The school fees needed to be paid the next week.
Here in Uganda school is not free. There are tuition fees, books and supplies, and uniforms. The average Ugandan has to work for months to make this happen for just one child. Many children here go without education. Even the "free" early education is not free.
So Prossy's guests one by one left her, and of course not knowing what my fate would be without water for days, I had to leave as well. I paid her double my bill, covering the days I would have stayed with her, just somehow as a consolation to her horrible dilemma. Prossy has become my friend, and I love her and her family, but what could I do? The needs are overwhelming here. A wise Westerner living in Uganda gave me advice when I came to Uganda the first time: "carry softly the wallet." There are so many needs and if you help every single person you have a heart desire for, you will not manage to help those that are on the end of your journey.
I so wanted to pay the water and help her, but what about the rent, and the electric and the school fees, and the expenses of running the guest house…and….and….and…..
So with great sadness I left there on a search for a new place to reside for two more days. I went to two places which were not available, and then found a wonderful place, the Nile Anchor Palace. What a dream of a place. I am stylin' here! This is my oasis for two days before I go to Northern Uganda. I have a phone and tv with satellite which I won't use but looks really nice. I have a fan with a timer (very useful) and a desk and sitting area next to the bay window which overlooks the compound grounds. There is a fridge and my dear friends, this is just heaven, the water got slightly frozen in the fridge and is simply great and refreshing.
Please specify a Flickr ID for this gallery
So this morning I sit in my bay window area, writing and listening to the hundreds of birds and the busy noise outside. There are children laughing, mummering conversation, construction hammering, Doves cooing, Magpies griping, Hawks swirling and many waterbirds making their distinctive whistle, soaring overhead. I even saw a monkey in the tree peeking out this morning.
The Palms here are very stately and this is a gorgeous mansion guest house with meticulously manicured landscaping. I've uploaded some photos for you to enjoy of my place here, because folks, it won't get any better than this for the rest of my journey. I'm the queen of Africa for a moment in time, and I'm loving every minute of it.
I have an embroidered pink flowered bedspread. It reminds me of my little girl bed! I feel like a little princess going to bed under my flowered spread and mosquito net canopy. In Africa there is much time to reflect on life. It is as if time stands still.
I took photos this morning of my breakfast which I hope to upload, nothing special but the highlight was real watermelon jam. Now that on bread was a slice of real happiness. I was waited on again in true African style. The managers and workers here truly know about service. It is a thing of beauty.
I am waiting to hear from Farouk. He's truly sick. He has some food poisioning. In the village his relatives gave him food which culturally, he could not refuse. He's sure the food was days old and all they had. He went to the village because his mother is very ill and he was picking her up and taking her to the hospital. During that time he was stricken with horrible dysentery and he has become so weak I thought he was going to pass out yesterday while trying to help me negotiate my bags into the car. So we paid some Bodas (drivers of boda bodas) some 1000 Shillings to carry my bags to the car. I will probably not see him today. There is no pepto bismol here and I looked in my bags and cannot find it.
Rachel, did you pack that for me my dear daughter? I know we were putting it in the polka dotted bag…where is it?
So here is my life in Jinja for the next two days.
We are waiting for the bicycle ambulance to be built and painted. We will then be packing it and a few other surprises on a truck owned by one of Farouk's friend, where it will go with cargo to Kampala and then be put on the big bus to Kitgum. We have to beat the bus there somehow so we can make sure that our unloaded goodies make it into our possesion. We are loaded down. I have clothing and toys and dolls and so many other things for the children. I went and bought Primary I and II books for each subject for the orphanage teachers. I have drawing paper, crayons, pens, pencils, writing tablets, geometry sets and erasers. We have dolls for all the girls and cars for all the boys. This will be a day like the children will never have known. They have nothing right now. Can you imagine? Thanks to my generous donors all this will be possible. We are also delivering IV drip and setups, medication and treatment for many diseases and infections, anti-fever medication, vitamins, bandages and other wonderful things. Some I can't write about in case a certain someone sees this and then knows the surprise!!!
And then I get the call…the children are out of food. I don't like hearing this. Because of my delay here, I was bringing the money to purchase the food when we arrived. I pray that they do have some dried beef and something in their garden to tide them over until we arrive. This balance is so fragile. We must find some way to assist them to become self supporting in the food area, and even self sustainable all around. We will be looking for a business opportunity to assist them with, so they may make some sort of funds to turn back to themselves. Please be in prayer for this, because people cannot be sustained forever. They must learn to step up and care for themselves eventually or they will never leave that welfare state. They must rise up out of their devistation and become whole and learn how to keep themselves. I pray this is the first of many lessons we can teach them about financial accountability and self sustainability freedom.
As the cooking and trash smoke begins to fill my room and construction hammering jolts me into reality, power for a moment and now, nothing again…I bid you good day.

4 Responses