Posted by Lori on Feb 5th, 2011 | 2 comments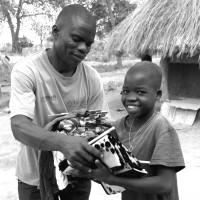 They fought the fire with everything they had. And I am fighting this fire with everything I got, even though you may think I am foolish for trying to carry droplets of water in my beak," concluded the hummingbird as she flew back once more to the river.


Posted by Lori on Oct 2nd, 2010 | 0 comments

This is a full length documentary about child soldiers in Northern Uganda. It is hard to watch for the normal person, and for me, someone who knows these children that were abducted, hugged them, listened to their stories in person, it is almost impossible to sit and watch. I want to book my flight again to Uganda. The great news is…I'm going back in January! Yes…more to come. Maybe this time my heart will allow me to write more about it. For now, please watch what troubles me so…let the suffering of the children change you, and create a stirring in your heart that makes you ask yourself…"What can I do?" For only then, in numbers can we make a difference.


Posted by Lori on Apr 11th, 2010 | 5 comments

When House of Angels opened up the child placement center to the orphans again we weren't prepared for them.  We didn't have proper things.  We had been caring for only older after school program children in the community.   It had been several years since we had orphans in our center, and then we had only infants up […]