Posted by Lori on Feb 4th, 2011 | 3 comments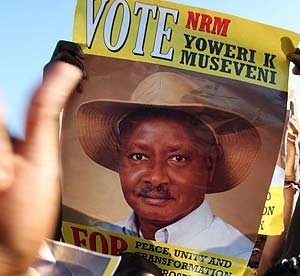 Uganda is about to hold a national election on February 18, an event which could trigger violence.  The whole country is abuzz about it.   Even though the State Department has issued a travel alert for citizens visiting or residing in Uganda, and I have duly registered with the State Department, I'm not worried.   I leave on the 11th and actually planned my trip according to the elections.
Currently I've left Northern Uganda, which actually would be a safer place to be if violence were to outbreak.
The incumbent Yoweri Museveni is expected to win by most people that I speak to, however, the men all say that there will be violence and likened it to the deadly violence in Egypt and the turmoil in Tunisia.  The women love Museveni and say that everyone will be happy when he wins.
In Kampala the voting boxes are guarded with military with machine guns.   They are ready for anything that should happen.   The voting boxes have been guarded for some months now to avoid any possible tampering.
The elections are held every 5 years here.  The last in 2006.  
Someone wins, someone loses, and the losses are held very glumly and people become extremely upset when the person they wanted to win does not.   This is where the spark of violence could begin.
  I feel it too could happen.
A few nights ago as we were traveling through to Jinja, we saw a cavalcade coming down the pitch black road.   First cars with bright lights and blinkers going.   My driver said that this was the president's motorcade.  Along with the cars you would see an occasional ambulance and then other very expensive vehicles.   He noted that the president was probably flying because the presidents car travels inside this motorcade with absolutely no lights on at all.   We drove further and here came the second set of vehicles.   Sure enough there was Museveni, although we could not see him, he was there in his darkened vehicle with no lights.
We went a little further and saw the truck that is parked for his bathroom convenience.   He has them stationed in different places along his path and they contain everything he needs for a potty break.   We certainly would not expect the president to pee on the side of the road as everyone does here.
On further we began to see the crowd.   Thousands dressed in their very best!   Women looking like they were attending a formal dance.    Beautiful traditional Gomesi and dresses.  The men equally as dressed.   Everyone happy!   They had just attended a town hall meeting with the president!
The president comes to the town, has his security and body guards assess the situation and if he feels comfortable he will exit the car and go amongst the people.
There were trucks jammed full of people, cargo trucks filled to the brim.   They were cheering and so very happy about the president's visit.   There must have been at least a thousand people walking on the roadsides.
The drivers here hired for the presidential motorcade say that they do it, they are hired but are never paid even though the wages are negotiated.   The money doesn't ever seem to trickle down to them, so by the time they are supposed to be paid, it is understood that they should consider driving for the president quite an honor.   So he must go through new drivers a lot.
So we wait, for the election here, and I travel exactly one week before it happens.   I'm thankful to go home before, yet, somehow it seems like I'll be missing such a big part of history here now.
Now on to Sudan.   What a mess.   I left the North and they were expecting an uprising in Sudan.   The elections have left Sudan in a quandry.   Now the country is split in two.  Sudan in the North, and "The New Sudan" in the south.  "The New Sudan" is being touted all over the press with slick graphic design.   I kept calling the New Sudan, Sudan II.
I thought what if the US did this?   How would we react?
Although last month's Sudanese referendum was largely seen as a success, the authorities harassed, obstructed and censored local and international news media covering the vote, and are continuing their clampdown on free expression in the face of street protests that are rapidly spreading.  The Ugandans here see civil war uprising.
The government of the emerging, independent South Sudan is being caught unprepared by a voluntary migration of thousands of university students from universities in northern Sudan.  Also officials in the Sudanese parliament and administration say they are already perceived as foreigners.
The Southern students decided to leave classes in the north of Sudan and have moved to South Sudan, following the preliminary announcement of the referendum results in favour of independence.  They were being forced to leave by officials saying go home to your new country…"what are you waiting for?"
Also, tens of thousands of primary and secondary school pupils are said to have been repatriated to South Sudan.
The MP's (military police) of the South that work in the North are now no longer being taken seriously by their own colleagues.   They are being forced out, friends pushing friends.
The worry for me is that if this civil war is to happen, Northern Uganda will have thousands of Sudanese that will enter through Kitgum where I have just returned from.   The Sudanese have more money than the Ugandans, and they purchase all the goods leaving nothing.   What will happen to Northern Uganda is something I don't even dare to think of.
The final horrible happening is that Joseph Kony is back doing his work in Sudan.   The LRA (Lord's Reisitance Army)  leader, Kony is back at his sick work.  This army kept Northern Uganda fleeing their villages in sheer terror, for 20 years.  Whole primary and secondary schools would be abducted, and children would flee their families at night and sleep in the bush to avoid being kidnapped.  The horrors of this war are still seen everywhere in Northern Uganda.
This week there have been two instances of abductions and brutal killings in Southern Sudan.   This is too near our children we care for.
 He is going to take advantage of this "weak" government situation and make himself known.  Whether he himself is in Sudan or just his army is yet to be known but let us pray that someone stops this soon!
We have made an emergency plan for our orphanage there.   We pray that all these troubles don't force us to enact that plan.   I shall pray for this country and her people who cannot seem to find peace in all these political issues.
I hated government and history in High School and College.   Now I'm older I'm fascinated by it and find myself right in the middle of world events.
The power has gone out now so I must conserve what is left on my computer.
Phograph: Reuters/Radu Sigheti

3 Responses