Posted by Lori on Feb 8th, 2011 | 6 comments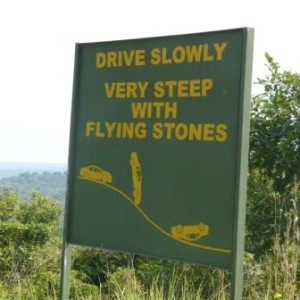 I thought I would reflect on my time here with the things I'm going to miss when I leave. Some of these things are new to this trip, some are a carry over from the last.   This country really gets to me, my heart, my funnybone.   I've never cried so hard or laughed so hard here.   This is a place that just holds you and when your days are near to leaving, you aren't sure how you feel about leaving.
I miss my family, and my girls miss me so much.  I'm understanding now I have a little family here, little meaning 35 plus children.  This makes me happy and sorrowful all at the same time.   I'm very torn.
The things I'll miss is a much more exhaustive list than the things I won't! There is no way to summarize my feelings as I leave this place again soon, execept that I'm torn. I'm ruined. I'm forever stained with the blood-red soil of this country and it has forever stained anything I had that was white!
Things I ♥ and will miss about Uganda
My Acholi Children, first and foremost. They will be the wake from my slumber and the cause of my insomnia. I love them so.  They will be the driving force to keep me returning here.
The Ugandan Handshake – it is quite a shake, rather energetic and then just prolongs into an extended handholding sometimes. Careful to watch the hand first before shaking because if the arm is extended instead of the hand, you just grab the arm and squeeze slightly. This means the greeter has wet or icky hands.  I learned this a little late, and thought that all Ugandans didn't mind shaking with wet hands.  When you go to certain villages the handshakes tend to differ, so when there I just followed along. But the handshake I will miss most is the typical Ugandan villager handshake. You will love this! This rather cool handshake consists of the universal handshake, then the transition to the 'right on my brother handshake' swiveling with the thumbs locked, and then slide on back to the universal handshake again. A smooth triple move that is way cool and it is hip, and it is always fun when I select the right handshake and I feel all in the groove.
The Ugandan Affirmation – Ugandans like to affirm what you are saying with a hearty MMMMMM sound, so a conversation would go like this:
"I went over to the super market yesterday,"
"Mmmmmmmm"
"and when I got there they had none of my favorite sodas,"
"Mmmmmmmm"
"and I felt really bad about that,"
"Mmmmmmm"
Stoneys – the fabulous non-alcoholic "ginger beer" which happens to be a Coca-Cola product but not sold at all in the US. I'm very dismayed about this as I've developed quite an addiction to it. Nothing like gingerale at all, but it is a very strong true ginger taste and really helps the food to settle. Nothing like a super cold Stoneys!
Krest Bitter Lemon Soda – also another Coca-Cola product we don't have. Sigh.
The Ugandan Greeting…otherwise known as the longest preamble ever spoken, a hello that goes around and around and around the world and back.  Hello how are you, reponded by a hearty EEEEhhhh, then I'm fine how are you, Ehhhhhhhhh, How is the family, MMMMMM Eeeehhh fine and how is yours, Ehhhhhhh, and you are you well….Ehhhhhhh and it never seems to end it just finally blends into the next sentence.
Chipati bread, fried outside on just about every street, similar to Indian Nan.
Haggling over prices in the market, and winning! Smiling triumphantly!  Exiting with my prize…knowing this was fun for both the vendor and myself.
Interpersonal relationships with strangers, many a day, and having deep meaningful conversations with people you don't know and will never see again. I never feel lonely here.  One of the best examples of this is quite a funny thing, I began to talk to the headmaster of the school where I registered the children.   He asked me about Diabetes and because mom has it, he wanted to know about the treatment etc. in the US.   He ended up telling me a big long story about his Diabetes and how he seems to have "lost all my power as a man."   Now where on earth except Uganda can you get to know a person so intimately just that fast?  Poor guy, he was like 75 years old!
Mosquito nets that fulfill my childhood princess fantasy!
Waking up to the sound of roosters, reminds me of the ranch where I used to live.
The gentleness and genuineness of these beautiful people.
The best Tilapia on the face of the earth.
Goat meat! Especially the goat meat on a stick in the roadside stop right outside of Gulu. There is no other heaven like this. The meat grilled to a complete perfection. It is one of the only safe places to purchase meat like this. I want more, I will miss it and I must find some way to incorporate goat meat into my cooking. (sorry family, you will get to try it and love it)
Lots of time to think and reflect.
People who are truly thankful and will really miss me, and remember me. Strong relationship building in a short timeframe.
The simplicity of life here, especially in the villages.
A whole fresh pineapple for .50 USD.
Being able to talk openly about Religion, AIDS, Politics, Corruption, World Affairs, the UN, immigration policies, health care, journalism and news, poverty, orphans, oppression of women, Texas, family, home and money and how it affects people.
Black Tea with Lime
Women accepting their own bodies, and confidant body image.
Wearing a long skirt, I've grown to love them.
Spontaneous dancing
The food simplicity, yet comforting food.
Hilarous conversations about American world…."Are your rainbows the same as ours? Your moon and stars? Your sun?"
People happy about me gaining weight here, telling me my mother will realize that Africa has taken good care of me.
My friend, my employee, my driver, Farouk.
And one of the fun things I'll miss is what I affectionately call Unglish.  The idiosyncratic way of speaking that the Ugandans embrace.  Here are a few examples of patterns of speech:

'"Move" describes a whole bounty of activities.   Move this way means to turn here, move back means to go back to where you started, move all around means to go here and there, and moving up and down means going back and forth to some place.
Store Names or Signs – These are often literal ways the words sound.   Examples:  Green Hair Saloon   This is actually a hair salon in a green building.   LOL
When you go to the bathroom in Uganda you take a "short call" or a "long call"
Sorry is an expression for any thing that might happen wrong, negative words or horrible things.  Oh…Sorry sorry sorry.  They keep you in check of your negativity this way, not intended but it is a true serious way to show sorrow for that situation.
My absolute favorite:  People say "The what?   the ____".   Example:   He drove his car over the what…..the bridge, and the bridge was what….spoiled,  so the car what….fell in.   They don't use it that often but it actually has become cute for me to hear it spoken.
A basement is called a godown, a tow truck is a breakdown.
Farming is referred to here as digging, and large agricultural crop areas are even called gardens.
Forms f transport are called means, "I couldn't go there I had no means."
When money is spent extravagantly on outings, shopping, recreations and the like, people are "eating money." This is also a common phrase in reference to embezzlement, corruption, or misappropriation of funds, and often spoken about when referring to large organizations like the UN.
If you are a liar or a con man or you are being chastised for something you have done wrong,  you are a fake guy.
A building labeled hotel in a small village is likely to be a restaurant.
The title Captain is applied to all pilots, and Pilot to all bus drivers.
Mobile phone services are prepaid. A person finding himself with inadequate prepaid time to make a call will ring up the intended recipient of the call and hang up immediately. The receiver of the call, hearing the phone ring once and seeing the number, has been beeped. The understood message is I wish to talk to you at your expense.
The word lost is used to mean that you haven't seen the person in a long time.  "Hey, you have been lost"
When you get married, you enjoy.  "I used to enjoy Jane but now I'm enjoying Rose."  lol
Detoother is the dentist.
There are few things I won't miss.
The layering of sweat, mosquito repellent and red dirt, over and over and over all day long in the sweltering heat and scrubbing it all off every night only to find your sheets tinted red.   ugh.
Handwashing my filthy clothing
Stinking so badly
Drinking hot bottled water
Pastors who are not
Corruption and dishonest people out to just take everyone
Feeling responsible to help yet not able to do everything to help
Feeling like people's personal banker, carrying a mobile bank
Loss of Power
Loss of charge of my electronics and then Loss of Power
No AC
The Islamic call to prayer near one of my guest houses in Jinja at 5:48 promptly every morning on loud speakers and megaphones.
The Muslim man praying loudly in my ear from his open window next to my open window at exactly 6 am every morning in Kitgum.   If only Christians could pray with such regularity and intent.
The same man who yawned so loudly over and over at 6 am.
The potholes in the roads
Wondering if I will eat the next meal, and then discovering it was the same thing I ate the last 6 meals
Wondering if the mosquito that just bit me was laden with Malaria
The looming illnesses and injuries everywhere
Stiff laundry from no softener
Not being able to hear the soft spoken speech, the soft way that landlines ring, the soft knocks on the door, but yet the tv's, radios and videos are on at warp 8 all night long and people bang on everything all the time
Things constantly out, broken, not working, or "spoiled"
Hopefully that list is not too harsh.   It is my true thoughts.
So I'll miss this fun, chaotic, beautiful mix of sorrow, poverty and jubilation.  I'm thankful for Uganda and her people.   It has revived me for now.  I'll have to come back soon for a recharge, if the power is on!
The beauty in Uganda really isn't in the National Geographic type view, it is in the culture and the people who struggle daily here.

6 Responses