Posted by Lori on Feb 25th, 2012 | 0 comments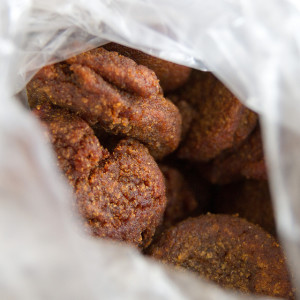 You'll have to pardon my out of order posts. I wrote one yesterday about my first day in Uganda, but the almighty power (electricity) god must have eaten it!
So I will start with the 3rd day in Uganda and I'll go from there and post backdating.  So you will have to back up a bit eventually if you want to read what happened!
We got up at the earliest hour ever, 4:30am. We were leaving at 5:45 to head to Kampala. I got no sleep at all, only 3 hours.  I am still jet lagged and a scary thing happened. My bed at the guest house has a square frame suspended from the ceiling.  The mosquito net hangs down to the bed from this frame.  I must have rolled over on the net or something.   Some time about 1:00am I turned in bed and the frame closest to the wall fell. It is up high enough it didn't hit me but I had a huge scare! I then couldn't figure out what had happened and I was a sight trying to find my way out of the netting. Adrenallin pumping, I managed finally after hitting my head hard three times on the wooden frame, (temple bruise) to escape. We had to leave before I could get anyone to help me rehang it. I'll post a photo of my bed and mosquito net frame later so you can truly understand.
We left out of my guest house without breakfast because it was too early. It is amazing how early Ugandans get up to walk miles to work. All up and down the roads, they were dressed for work walking.  Truly dedication, yet a very dangerous place in the pitch dark walking.   Drivers have to really be aware.
Right inside of Kampala, we saw the Pancake Man! This is Uganda's equivalent of the ice-cream man.   What a joyous sight. Farouk, Christine and I felt like children as we attempted to stop abruptly pulling over and avoiding cars. We didn't know if we would get any time to eat, so this was our golden opportunity! I realized I've never blogged about Ugandan Pancakes before.  I don't know how I've missed this!
The best matooke (plantain bananas) and sweet bananas in Africa come from Uganda. Sweet bananas, also called apple bananas or fingerling bananas, millet or cassava flour, and sometimes local peppers are the ingredients that produce the sweetest thing ever fried in a pan in East Africa – a devilishly delightful pancake called Kabalagala. Many generations of boys and girls in Uganda have grown up on these  Kabalagala.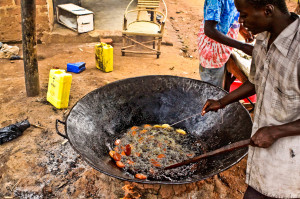 High in carbohydrates, this treat can bridge even the biggest meal gap!
Back to the banana pancakes, they aren't light and fluffy like the American version. Kabalagala are dense, chewy and oh so very filling and tasty! I'll post up a recipe later for this.
I'm sure that these Kabalagala have saved many from starvation! It sure did us, as we didn't eat another thing until 10:00pm and that was only at a roadside service station with a little canteen restaurant. They had two day old Samosas (fried pockets filled with beef), and they assured me they would heat them up very hot. I lived.
For now…I'll leave you with this song…and Heidi, I had a banana pancake for you too!   Wish you were here!