Posted by Lori on Dec 28th, 2013 | 0 comments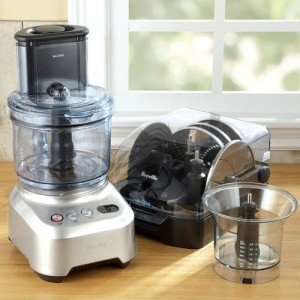 I got a new kitchen power toy for Christmas.   I must have been a good girl this year for Santa to have blessed me so much.  I can't even begin to tell you how wonderful my new Breville Sous Chef Food Processor is!  This is the Rolls Royce of food processors, and it is mine?   Wow.   Sadly there was only one spot on my kitchen counter-top that didn't have hang over cabinets that were too low, so I had to put my KitchenAid mixer up on top of the refrigerator until I can find a better place for it.   This is my only complaint at all.  Both of these appliances are beautiful so I would love to show both of them off on my counter-top!  Oh for a kitchen remodel!!
My daughter Maggie has been our resident food prep chef.   Chopping onions will be the death of her.   I even bought her special onion goggles which are too large for her smaller head.   I cannot wait to see her face the first time we try chopping onions in this baby!   She will be forever thankful.
Healthy cooking starts with fresh ingredients — then, often, there's loads of tedious, tiring prep work.  I can't imagine the holidays or parties and the time saved…for us, hours.  Food processors have become an essential item for any serious cook.  I've researched and this model from Breville features a 5.5-inch super-wide chute that allows you to slice veggies and fruits without having to cut them by hand.  I'm seeing visions of sweet potato fries already! It also comes equipped with a set of eight discs and blades for many different prep options; the discs include a variable slicing disc that can adjust the thickness of your cuts from a paper thin 0.3mm (.01") to a solid 8mm (.3″).   All of the attachment disks are in a beautiful case so there are no stabs of hands coming from your misc. drawer in your kitchen.   So clever Breville, Bravo!  Santa, this will be worth every penny you spent getting this to me, promise.   Your stomach will thank you too.
Take a look at the Breville Sous Chef and see if you fall in love too!