Posted by Lori on Aug 19th, 2012 | 0 comments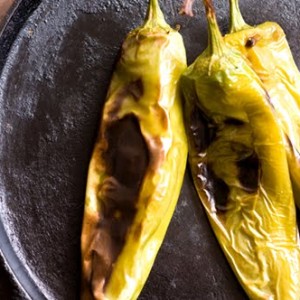 It seems that since my dear mother's passing, my days are even more full of work for her, than when I was caring for her.   Every weekend we pack up and drive to my old childhood home and begin the task of cleaning out and throwing out.   Tears of sadness…tears of remembrance are all over the 50 plus years of accumulation my parents collected.   My parents came from the Depression Era parents, so nothing was ever thrown out or wasted.   This has all been so tiring, and draining to go through this alone as an only child.  Meth-head copper theft break-in didn't help in the middle of our packing either.  So violating.  They destroyed the place for $100 of copper.  Shameful.   There will be a judgement some day.  If any blessing was to be found in that destruction and setback, it was that we were able to go through things twice and let go of more.
Up early today!   We have lots to do!  If any of you are pepper or chili aficionados then you might be a bit envious.   We are in West Texas, and every year we get to enjoy the Hatch Chili Roast at stores here in Amarillo.  Yesterday I took my girls and we watched and with delight, and took in the delicious perfume and the sights and sounds of the annual chili roasting.  This is really a sensory experience!  I took some photos which I will post up a bit later.   We don't have a big festival here.   Just a giant roaster, outside our market, and a lot of good fun meeting new folks and talking up chili. We bought hot chilies, as opposed to sweet, as a good girl born in New Mexico should.  There are no other peppers in   the world like these.  Our family would not be able to live without our chilies.   They have always been a part of my families New Mexico heritage.
Today we are packing roasted New Mexico Hatch Chilies for the freezer.  My house smelled really nice with that yesterday!
Next we have ORDERS ORDERS ORDERS!!  Our little home studio business, Kaleidoscents, takes off in the Fall and Winter  We have some local orders, some that will be shipped and a huge Wedding order for Bug Off!  The wedding order is for a bride in Houston that is having an outdoor reception.   She will have bottles of the Bug-Off! blend on the tables for her guests, so they don't go running away with mosquitoes ruin her wedding.  West Nile Virus has dug it's heels in Texas this year.   We are very concerned because our Winters have been so mild.  This affects our pets too.   Please take a look at our Bug-Off! blend.   I've taken it to Africa with me and tested it on the most difficult mosquito biting field in the world.  No bites!
The time is 4:33 am and it is time for me to get the wax heated, the chilies separated and the coffee brewing!