Posted by Lori on Feb 5th, 2011 | 2 comments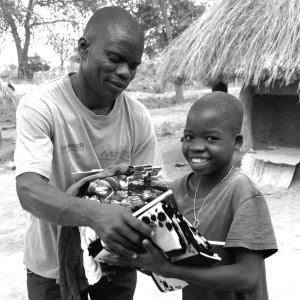 World history shows that individuals and small groups do make a difference in bringing about change in their societies.  Often people think that the small thing that they can do won't change a thing, WRONG!!! Why are we encouraged simply to vote when elections come around??  Our individual actions do make a difference!
The biggest problem is that people won't make that first move for fear of what they do cannot possibly make a difference. Herein lies why nothing much is ever accomplished in efforts for change, we simply do nothing. Don't do nothing. Don't let your life be for going to work and coming home and sleeping and going to work and paying bills and….and…..and…..
You can make a difference!!! Yes YOU!
Well I'm here to tell you that I'm no one. I'm just a woman from the Texas Panhandle that saw issues in the world that I just could not bear or tolerate. I wasn't particularly adventurous, nor athletic, nor full of world knowledge. I just put one foot in front of the other and here I am, right now in the middle of Northern Uganda!! Who would have thought? And you know what? With my little hands, I'm making some change. I see it!! Today we met with the local county commissioner, the child protection officer and a representative of Save the Children.   They all were invited to see what had been done there for the children.
We met in an introduction ceremonial meeting where first the host speaks then everyone makes their own speech, then again the host ends and then others want to add something else.
What I gathered from this meeting was that many white people had come in their cars and spent time in this village, but never once had anyone returned to do one thing.
"We thought that our conditions were too harsh, this heat, this blowing sand, oh the winds….our winds…our floods, the war of our past, the unsanitary conditions, the illnesses, the ugliness of it all maybe was just too much for the white person, yet you have returned to us!!!??? We do not understand why!"
They were elated and for that moment I felt the knot welling up inside of me, I was not going to cry…….I was not. Thankfully I held it together.
I remembered the story of the hummingbird and the forest fire. While I sat there thinking my efforts were so small, too small, the children needed more I must do more, they were so thankful and happy for what had been done they could not believe their eyes!
I explained to them that I too once lived in a remote village (on a ranch on the edge of Palo Duro Canyon in the middle of nowhere) and that our Texas weather was equally as harsh with our shifting weather and wind oh the wind we endure in the Panhandle, and the blowing dirt!! Perhaps this is why I was able to tolerate this, so I've lived in this Panhandle that people often cannot tolerate themselves, because one day I would face equally harsh weather in Northern Uganda. I explained that living in the village I faced power outages often, and had lived without running water for weeks at a time in the winter. They all applauded.  I understood them, the first white person ever who understood.   This completely changed everything.   Curtains of suspicion dropped, doubts left, we were one people, under God.
I allowed them to hand out the things to the children while I photographed. They were honored! These people were allowed to be a part of my work there and they felt special. I'm happy about that. They told me that there are about 300-400 war-affected orphans in that little place. Imagine!!???
They also told me that these children were the lucky ones and they might actually be shunned because of their new status of having new uniforms, shoes, etc.   So they hoped that we would give many more children the same opportunities.
If you only knew what little we did there, the needs are so overwhelming but I still have to remember the hummingbird story.
My vision for these children realized with help from just a very few folks, but we made an impact. I thank all our donors for their boldness to step out and DO SOMETHING!
You can too! I need help. I need volunteers, I need mouthpieces, I need prayer I need so many things and I know that there is a special place for you. Help me be the hummingbird!!! Think of those other children that have nothing, no help at all.   The child starving tonight.
You know we used to hear at supper, "there are children starving in Africa," the phrase our parents used to coax us to eat our supper. I didn't realize until much later there really are those children and that we should have been helping those children instead of fattening up our own.
How do you fit into this picture? How are you going to be the change in this world?
One tiny drop at a time…that's how!
If you really want to be a part of what myself and others are doing for Northern Ugandan war and AIDS orphans, you can read about our work onDream of a Child website or join our Strong Heart Child Sponsorship page on Facebook.
This morality tale takes after the simple story of the hummingbird, once told by Dr. Wangari Maathai, the Kenyan environmentalist and 2004 Nobel Prize laureate for peace. She had heard the basic story line from a professor in Japan on one of her trips there.
"I am doing all that I can do. And may be if we all did what we could do, instead of standing around and talking about what should, could or needs to be done, then perhaps, we may be able to put out the forest fire!" advised the tiny humming bird as she flew back and forth to carry more droplets of water from the river.
They fought the fire with everything they had. And I am fighting this fire with everything I got, even though you may think I am foolish for trying to carry droplets of water in my beak," concluded the hummingbird as she flew back once more to the river.

2 Responses