Posted by Lori on Jun 15th, 2010 | 4 comments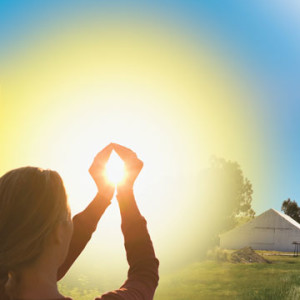 Before I came here I felt so tired, so drawn out and pulled into different directions.   I felt purposeless.   I was being challenged spiritually and attacked spiritually from every angle the enemy could manage to find.   I began to share with people my challenges because I was hoping I could get some clear direction, some compassion, some advice and love.  In sharing those challenges which were really more than most minds can take, I got what appeared to be violent opposition and I saw others turn their backs on my pain because it was too difficult for them to endure.  I was so shocked at the reactions when I reached out for comfort.  People reacted in a way I couldn't imagine.  I can say that the last two months were nearly the hardest in my life as I prepared for this trip.  I didn't even share with others the attacks that myself and my family endured.   Only a few know some of it.   None of it matters now, as it wasn't the truth or the life for my self, my organization and my family.  I know now that I had to endure that to say the words I have been given below this morning as I meditated and had a day of rest here in lovely Kampala.
I've always been perplexed at the American way of saying Hello, "How are you?"  They really don't want to know if you truthfully answer.   It is a superficial greeting that we as Americans don't generally mean.  Why must we be seen as a "Debbie Downer" if we try to answer this question?   Maybe we should be more open?  Maybe we should not even use this greeting if we aren't ready to receive?  I was made aware of this in my years of working with foreigners from all nations.  I really want to either become more sincere with this greeting in a way that invites people to share their troubles or needs, and I be emotionally available or eliminate it altogether in my life.  I used this greeting once here, and never again.   I said "Good morning how are you?" to my new dear friend former abducted child soldier of the LRA.  He put his head down.   My driver said Richard doesn't know how to answer this as he is worried on how to feed all his children in the orphanage and how they will manage without education or medicine and many other problems.  I never asked again.   Richard had found his purpose, the thing that makes him happy but also, makes him cry and uncomfortable. I disrespected that.  I felt awful. These are the things that well up inside of him every evening.   He has dozens of people depending on him carrying out the purpose God has called this young man to.  And he is faithful, trusting, and has such integrity in the face of poverty.  Richard has moved out of survival mode into a Christ-like father figure to many.   He has been called to help the orphans, and he has arisen from his pit of hell that the war ravaged on his young spirit.  I will tell his story later in my blog, but I really must prepare myself emotionally for that time.
Coming here has stripped away my world as I know it.  I've had a chance to calm my mind, take away the working world for but a moment, to rest, to regenerate, to focus and to rediscover my purpose.  I felt the words today flowing out and had a vision of purpose for every person reading my blog.   I want you all to know purpose in your lives, it doesn't have to involve your dedication even to a social cause!   Each of us have a different purpose!  God ordained this for us!  I remember reading "A Purpose Driven Life" and loving it.   I think I'll make time and re-read that when coming home.
What God showed me today on the faces of these people here is that survival is not purpose.   Aren't most of the people you know just surviving?  Maybe it isn't in the War-Torn extremes of Northern Uganda starvation survival but think about our lives and how monotonous we have let them become.  I want to help people discover their purposes here and everywhere. I see the good men of God here teaching others how to be a help in their community not how to get help from their community.  They very much dislike the handout approach although it is necessary to get communities on their feet at times, but then how to move forward?   You must teach people how to have purpose and how to make themselves rise above the poverty and survival mode.  This is difficult here.   In a land of plenty of America, we struggle even more to find our purpose.
I'm rediscovering my passion, my love, what I would love to do the rest of my life in this world regardless of payment.  Purpose is not your long term goals.  I think people really may not understand purpose.   I see so many people living out their lives without ever discovering , and not even really knowing how to begin to work on themselves to find purpose, drones to their insulated world.  Everyone can have purpose, everyone can find it.
We all ask ourselves numerous questions and I think we all really struggle to answer those difficult questions about what drives us as a spiritual, emotional and intellectual being.  We have so much emotional baggage to unpack.  We live in such a low awareness standard of living.  The great thing is that we don't have to haul that around on our backs, God can take that from us with a few obedient measures and clear direction.
To find purpose we must really cast off selfishness.   It is a driving force in many families and companies and individual lives.  We need to begin to think of others first.  I know that the world sometimes embraces the self-love metaphysical theories that I cringe at "to thine own self be true" but if we are only thinking of ourselves, how can we find a purpose if it is turned back inwards and we haven't grown in any direction?  We constantly think of ways to improve ourselves in ways that really aren't even necessary or good,  just fulfilling our own conceit or narcissism.  We start teaching children from a young age to notice other's emotions, to share, to think of what they have done that might have hurt others, to consider feelings and ask forgiveness.  Why do we not impose this on ourselves as adults?  Always be aware of your actions and how they might affect others.  Always be acutely aware.  Prevent yourself from taking things a step farther to avoid self-righteousness.  Selfishness is one of the most debilitating actions you can impose on yourself.
To find purpose we must live with complete integrity, and ask God's forgiveness for those times that we do not manage this well.  It is so easy to compromise our own integrity!  If we live with integrity we will naturally begin to put others before ourselves.  We should expect then to naturally migrate to an altruistic life.
Develop trust.   When you gain people's trust you will automatically become less selfish.   Suspecting someone of dishonestly or keeping ones own interests at heart will destroy any trust you manage to build.
My motto is if you see a lie….fly.   If you stay you pay.
Gain the trust of others.  Trust others but not to the point that you allow yourself to fall into the pit of being taken for granted or advantage of.
We must live under the authority of God and our own set authorities, our superiors, our husbands, our family leaders, our elders, our pastors.    Without living under this authority you will open up the doors to disobedience and rebellion.   I've read the scriptures and they came to me on this trip.   It is so important to place yourself in this position when finding your purpose.  God cannot guide you without it.
In every case except when the authority over us asks us to do something which is contrary to God's word.  Even then we must not disobey in an arrogant and rebellious manner.  Dan. 1:8-13; 3:13-18; 5:10
Remain positive.   No matter what situation I've learned one great lesson in Uganda.   Always keep a positive note.  Always speak positively.   The Ugandans even believe that if you speak about someone in a negative way, they will feel this in their spirit.   I will often hear Ugandans say, "Oh soooo sorry!" and they mean it.  Their conversation is lively with positive thoughts and plans to find purpose.
Don't lose hope.   One of the greatest lessons of HOPE I ever learned was the way hope is viewed Biblically.  Friends, hope is not wishful thinking!   I know we always say "Oh I hope I can…" that is wishful thinking.  The Biblical meaning of hope is "confident expectation."   It takes a lot of faith to have hope my friends.  It takes a lot of trust to have hope too, and the positive thinking and prayerful way we go about our lives will make the Biblical Hope, happen.   Purpose cannot happen without hope of this type.
Faith that your purpose will be fulfilled in life is often difficult because we tend to be so impatient.   With faith we can know it will come to pass and we can move on and not have to wait aimlessly or lose our hope.
Hebrews 1:11 Now faith is being sure of what we hope for and certain of what we do not see.
Live your life without walking in fear.   Fear binds so many of us, and we have God there to protect and love us.  Just take that walk out of fear of what ever is your stumbling block.   Also do not impose your fear on others, if you decide to continue to walk in fear, please don't talk in fear and place it in the hearts of others.
I'm writing ideas out as things come into my head from my readings and my meditation over God's word and I have no idea if any of this makes any sense to you.  I pray there is something here for you to grasp onto.
Purpose is what keeps us going, it keeps us alive and willing to endure.   Do not give up discovering your purpose.   God gives us this purpose.  I don't ever want to force my beliefs on others, but I'm not ashamed of what I believe in, so I always want to share.  I am no evangelist by any stretch of the imagination, but I want to share in love, and in the love that God has put into my heart for others.
I discovered once an exercise that I found changed my life.   I hope you will try it after reading this and see what you can come up with for the purpose of your own life:
Here's what to do:
Take out a blank sheet of paper
Write at the top, "What is my true purpose in life?"
Write an answer (any answer) that pops into your head. It doesn't have to be a complete sentence. A short phrase is fine.
Repeat step 3 until you write the answer that makes you cry. This is your purpose.
As I concluded the last word here, a loud clap of thunder arose over the guest house and the sweet smell of cleansing rain filled my room.   The rain…the glorious rain, pouring as hard from my face as from the sky.   The rain to clean the streets, to grow the crops, to cool the air, to quench the thirst,  to wash the dust off of everything, to purge the dirtiness and rejuvenate the joy that I know surrounds me here in the Pearl of Africa.
God bless you in every facet of your life.  May your true purpose rain down on you.    There is nothing like knowing, being cleansed by it and living it out.
If you want to know more please read the entire chapter of Ephesians 1 in the Bible.
From Kampala,
Lori

4 Responses