Posted by Lori on Dec 31st, 2013 | 0 comments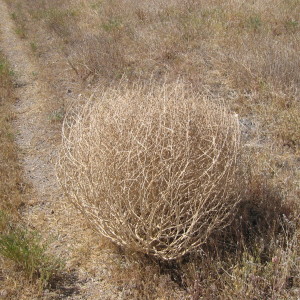 Every year growing up, my mama would decorate our traditional Christmas tree. It took forever to find the perfect one, but that was nothing in comparison to the care mama took to find her exquisite and pristine Christmas tumbleweed.   In our house we always had two "trees" after moving to Texas from New Mexico. The best times were when we went on a countryside journey and selected the most perfectly round "Texas Tumbleweed Tree" and took so much time to make it beautiful. I think in some ways this was my mama's favorite part of decorating for Christmas. They are not a joy to decorate because of the sticky barbs, but a festive touch to Christmas.  This year the tradition continues in our home. This is our Texas Tumbleweed Tree.
There is always of course a funny story to tell about the sacred tumbleweed search that happened each year.    Our tumbleweed was always decorated first.  My mother had crippling arthritis and other very serious health issues.   I remember mama walking well only for the very young part of my life.  The rest of my life her feet were crippled, and she was completely disabled.   I remember her running only once.   I was in early elementary school and had invited a little friend Misha along for the journey.  We were hunting that perfect specimen of a "tree" and we would scour the countryside and inspect many weeds that failed the mama test.   She spotted one out in the middle of a field with a barbed wire fence protecting it.   That was no deterrent for my stubborn mama.
She told us not to open the windows for any reason, and not to open or unlock the doors until she came back.  That was our very stern warning.  We watched as she carefully crawled through the barbed wire and headed to the middle of the field.   What mama didn't know is that she wasn't alone.   There was a huge black snot slinging bull beginning to dig his front heels and kick up dirt.   His breath shot out in two huge streams of vapor in the cold December air as he planned the fight and chase.  She was on HIS side of the fence.   She held up her treasure for us to see and my little friend and I were yelling and screaming in complete distress.  We called out  to her through the rolled up windows.  She just smiled as if she had found a million dollars and began walking back towards the car.  We were obedient children, we would never open the door if mama said not to.    We were afraid that the bull would kill her, he was huge and dark.  She was going to die under the feet and huge horns of this bull.   He began to charge from across the field!   Suddenly she heard his feet hitting the ground, turned and she saw him and began to run.  She ran faster than any human being I'd ever seen.   Now she had two missions, the tumbleweed and her very life!   My mama whom I never remember walking well, mama who walked on turned over feet, ran fast and hurdled the barb wire fence, all the time preserving and saving her precious cargo, the perfect tumbleweed held high above her head as she ran.  She was victorious. She had completed both missions successfully.
We told this story throughout the years to friends and always got a big laugh.
"Winter came down to our home one night
Quietly pirouetting in on silvery-toed slippers of snow,
And we, we were children once again." – Bill Morgan, Jr.